Starting April 1, 2018, the District is increasing the benefit level of families who have received TANF for longer than 60 months; and eliminating the 60-month time limit. This policy distinguishes the District from any other jurisdiction in the nation by solidifying the value that keeping cash in the home protects children regardless of how long a family has been receiving TANF.
The new Temporary Assistance for Needy Families (TANF) Program guarantees that support services are available to you and your whole family. Cash benefits for children continue regardless of how long a family has been enrolled in the TANF program and more rewards are available for parents who achieve employment and training goals.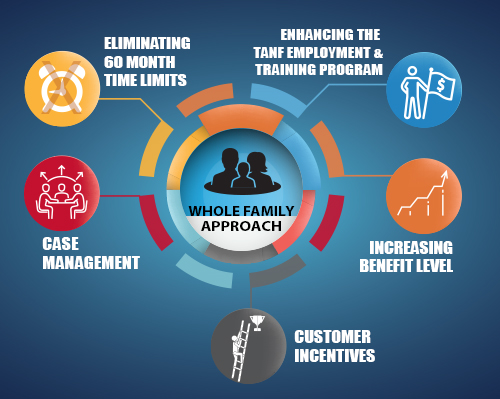 The District is enhancing the TANF program by:
1. Eliminating Time Limits
Removing the 60-month time limit for families receiving TANF
2. Enhancing Employment & Training Services
Focus on education and employment programs
3. Improving Customer Service
Providing one-on-one attention to help you meet your goals
4. Increasing Cash Benefits
More cash in the home for children
5. Providing Bonuses
Offering more rewards as you reach your education
and employment goals

GENERAL PROGRAM REQUIREMENTS
- 
In order to qualify for this benefit program, you must be:
- A resident of the District of Columbia
- Either pregnant or responsible for a child under 19 years of age
- A US national, citizen, legal alien, or permanent resident
- Have low or very low income, and
- Be either under-employed (working for very low wages),
unemployed or about to become unemployed.
Office Hours:
8:15 am to 4:45 pm on Monday, Tuesday, Thursday and Friday, 8:15 am to 7 pm on Wednesday