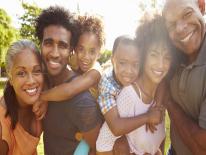 Gen2Gen DC programs are designed to provide supportive services to you and your whole family to help you reach your full potential. Each program incorporates a multi-generational approach to address the needs of parents, children, and grandparents. Get assistance meeting your personal, employment, educational, and housing goals through programs that connect you with resources and supports in your community.
It's Resource Friday!
Check out our weekly resources for happenings in the DMV.
FHI provides a safe space for men to share real-life stories and experiences that help create a fraternal bond through a series of workshops that empower fathers with support, knowledge, skills, and resources to help them strengthen their families and maintain healthy, positive relationships with their children.
Research informs us that a father's support—both financial and emotional—has been linked to better outcomes on nearly every measure of a child's well-being including cognitive development, emotional development, and healthy self-esteem.
The Grandfamilies Support Group is a series of workshops designed to share valuable information in order to help improve the lives of caregivers, children, and youth.
The program focuses on helping "grandfamilies" obtain the resources and services needed to ensure that children and caregivers have the opportunity to build a foundation for their families to thrive. The support group provides a platform for grandfamilies to learn about and share information that helps stabilize the family and provides a healthy environment for children to succeed and grow.
The OCOF program partners families with the local faith community to provide supportive services not available through "traditional" government programs such as mentoring and life skills coaching, encouragement, motivation, and meaningful relationships that foster hope.
OCOF collaborates with case managers and other service providers to ensure coordination and optimize the customer experience. Congregations and families meet on a regular basis to address barriers and issues affecting the family's potential to achieve economic and personal growth.
The Resources to Empower And Develop You (READY) Center is a one-stop facility for DC residents who are exiting the DC Jail or the Federal Bureau of Prisons.
The purpose of the READY Center is to help address recidivism by connecting returning citizens to community and government-based services that make their transition back into the community easier.
Office Hours
Monday to Friday, 9 am to 5 pm
Connect With Us
64 New York Avenue, NE
Suite 600
Washington, DC 20002
Email: [email protected]
TTY: 711