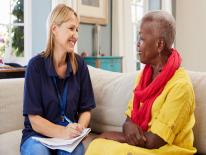 If you or someone you know needs emergency shelter, please contact the Homeless Services Hotline at (202) 399-7093 or dial 311. The Homeless Services Hotline is open every day from 8 AM - 12 AM. During hypothermia season (November 1 - April 15), the Homeless Services Hotline is open 24 hours a day. Transportation to the shelter is available 24 hours a day, 7 days a week during hypothermia season.
Coordinated Assessment and Housing Placement (CAHP)
Coordinated Entry, referred to locally as Coordinated Assessment and Housing Placement (CAHP), ensures standardized access and assessment for all individuals and families experiencing homelessness within the District of Columbia. Households receive referrals for housing (permanent supportive housing, targeted affordable housing, rapid rehousing, transitional housing, and other housing options) based on the understanding of service needs (including medical vulnerability, mental health needs, substance use issues, and other risk factors) and length of homelessness. The CAHP system also facilitates connections to services and temporary housing to meet immediate needs, in addition to helping individuals explore housing options outside of the CAHP system when possible.
The CAHP leadership team – which includes representatives from throughout the community – meets monthly to review performance dashboards, discuss operations, and identify needed changes or improvements in policy, protocol, training, and quality control measures. For more information on the CAHP system, please contact The Community Partnership for the Prevention of Homelessness (TCP), which serves as the DC CAHP System Administrator.

Homelessness Prevention and Shelter Diversion
The District has programs to prevent individuals at risk of becoming homeless from entering the shelter system and shelter diversion and rapid-exit programs. This includes Project Reconnect and emergency rental assistance.
Emergency shelter is available for adults who are experiencing homelessness. The Emergency Shelter program provides beds on a first-come, first-served basis, to anyone who does not have a safe place to sleep. Shelters offer a warm and safe place to sleep as well as on-site assessment and case management. Programs offer various onsite services for those accessing shelter.
The District significantly enhances outreach personnel and shelter capacity during the hypothermia season and remains committed to ensuring access to shelter during hypothermia season.
The District's day centers provide a safe and dignified place for individuals experiencing homelessness to go during the day to take care of everyday needs and access long-term services and support.
The Comprehensive Street Outreach Network provides strategic support to individuals living on the street or in locations not fit for human habitation. The Network engages unaccompanied adults who are unsheltered to provide case management that facilitates connections to shelter and housing supports, public benefits, physical and behavioral health care, harm reduction interventions, and other resources.
DHS provides transitional and permanent housing programs to District residents who are experiencing homelessness or at risk of becoming homeless. These programs include Rapid Rehousing, Targeted Affordable Housing, and Permanent Supportive Housing. All referrals to these programs are made through the Coordinated Assessment and Housing Placement (CAHP) system.