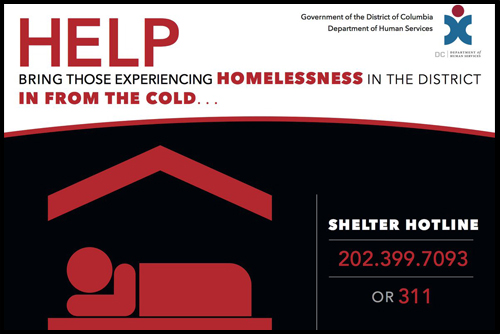 The District of Columbia is committed to protecting residents experiencing homelessness from extreme weather injury by meeting the demand for shelter during hypothermia (not enough heat) and hyperthermia (too much heat) seasons.
The District's Winter Plan for homeless services went into effect on November 1. When the temperature falls below 32° Fahrenheit between November 1 and March 31, all residents who are experiencing homelessness must be housed.
You can help. Call the Shelter Hotline when you see a person who is experiencing homelessness or may be impacted by extreme temperatures.
Hotline
The Shelter Hotline is operated by the United Planning Organization (UPO). You can reach the hotline in four ways:
Shelters
Families seeking emergency shelter should go to the Virginia Williams Family Resource Center (VWFRC) at 920-A Rhode Island Avenue, NE. VWFRC operates between the hours of 8 am and 4:00 pm, Monday through Thursdays (except for holidays and days on which the District government is closed). After 4:00 pm and on Fridays and weekends, families should call the Shelter Hotline for transportation to the DC General family shelter or other available family shelter.
Seasonal Shelters
Other single adult hypothermia and hyperthermia beds will also be available 7 pm to 7 am. These shelters open at the time of the first alert of the season and remain open every day of the extreme temperature season. These are seasonal shelters.
Overflow single adult shelters operate only when all other shelters are near capacity.