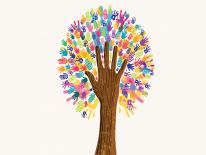 Housed within the DC Department of Human Services (DHS), Family Services Administration (FSA), the Youth Services Division (YSD) opened its doors in 2010. YSD offers free services and supports for youth to strengthen families, mitigate risks related to housing instability, improve school attendance, stabilize youth in crisis, and decrease court involvement. YSD includes several flagship programs and engages youth, their families, community-based providers, and District agencies to address challenging behaviors and circumstances.
Partnership with other District agencies and community-based organizations is a key component of YSD's work. District agencies such as the Child and Family Services Agency (CFSA), the Office of the Attorney General (OAG), the Department of Behavioral Health (DBH), Court Social Services (CSS), the Metropolitan Police Department (MPD), and the Department of Youth Rehabilitation Services (DYRS) often work collaboratively with YSD. In addition, YSD partners with a network of community-based service providers for housing, mentoring, behavioral health services, restorative justice programming, etc. that are part of and complement the YSD case management process.
The Youth Services Division includes five distinct programs:
*Note: Referrals are NOT accepted to ACE and STEP
YSD also includes two specialty services:
Youth Tenets
The following core beliefs drive the Youth Services Division's work. We do everything in our power to uphold these tenets in all our interactions with youth and their families.
Every youth is an individual.
I recognize the support and celebrate their unique needs, values, and strengths in order to respectfully and effectively serve them.

Youth deserves to be part of a family, traditional or non-traditional.
I seek to understand, engage, and support those closest to them.
Youth deserve the opportunity to tell their story without being judged.
I listen to them with an open mind and heart.
Youth are growing and changing and the circumstances that brought them to my attention do not define them.
I strive to empower youth to define and live their own emotionally, educationally, and physically healthy lives.
Youth develop more positively when not involved in the juvenile justice system.
I recognize that testing boundaries, rules, and laws are a normal part of adolescent development. Furthermore, I have an obligation and commitment to do everything I can to keep youth from becoming justice-involved.
Positive childhood experiences have a tremendous impact on youths' long-term emotional, psychological, and physical health.
I work to identify and address past trauma experienced by youth as well as minimize potential future trauma.
Each moment in a youth's life is vitally important.
A sense of urgency, understanding, and care drives all that I do.
Contact Phone: (202) 698-4334 Monday through Friday 8:15 am - 4:45 pm
Contact Fax: (202) 478-5747
Contact TTY: 711