Combined Application for Public Benefits
You may apply for one or more of the following public benefits programs:
Temporary Assistance for Needy Families (TANF, financial assistance)

Supplemental Nutrition Assistance Program (SNAP, formerly known as food stamps)

Medical Assistance (Medicaid, Alliance, and other medical assistance programs available through DHS)
Complete and submit an application through one of the following methods:
Department of Human Services | Economic Security Administration
Case Record Management Unit
P.O. Box 91560
Washington, DC 20090
All applications must be signed and dated and submitted to DHS to begin processing. Verification documents or changes may be submitted using the online public benefits application.
The following comparison chart provides an overview of public benefits available in the District and different ways to apply: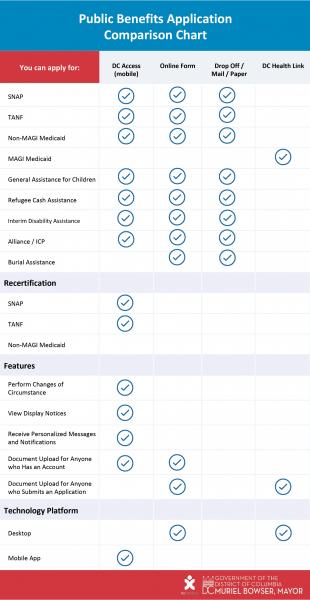 ---
PLEASE NOTE: To help enforce social distancing, the following DHS Service Centers are open only for picking up and dropping off public benefits applications and documents. To mitigate the spread of coronavirus (COVID-19), the Fort Davis and Anacostia Service Centers are temporarily closed.
H Street Service Center at 645 H Street NE
Congress Heights Service Center at 4049 South Capitol Street, SW
Taylor Street Service Center at 1207 Taylor Street NW
All applications and documents must be placed in an envelope provided at the service center. Applicants must write their full name and phone number on the front of the envelope prior to placing it in an application drop box located in a service center lobby. During the COVID-19 State of Emergency, new applicants may be contacted by a DHS representative by phone for an interview, if necessary, and if additional information is needed to complete the processing of an application.
Residents with questions about their public benefits provided by DHS should contact the Call Center at (202) 727-5355 from 7:30 am - 4:45 pm, Monday - Friday. Presently, we are experiencing a high call volume and a higher than normal wait time. Please note, shorter wait times tend to occur on Tuesday, Wednesday, and Thursday.
---
Frequently Asked Questions about Public Benefits
---
Midcertifications & Recertifications of Public Benefits
District residents who received a recertification notice for food and cash benefits are encouraged to complete the recertification process using the District First mobile app or the DC Benefits online portal.
For more information about modified operations at DHS during the COVID-19 (coronavirus) State of Emergency, click here.
For more information and resources about COVID-19, visit coronavirus.dc.gov.