Combined Application for Public Benefits
You may apply for one or more of the following public benefits programs:
Temporary Assistance for Needy Families (TANF, financial assistance)

Supplemental Nutrition Assistance Program (SNAP, formerly known as food stamps)

Medical Assistance (Medicaid, Alliance, and other medical assistance programs available through DHS)
Complete and submit an application through one of the following methods:
Department of Human Services | Economic Security Administration
Case Record Management Unit
P.O. Box 91560
Washington, DC 20090
All applications must be signed and dated and submitted to DHS to begin processing. Verification documents or changes may be submitted using the online public benefits application.
The following comparison chart provides an overview of public benefits available in the District and different ways to apply: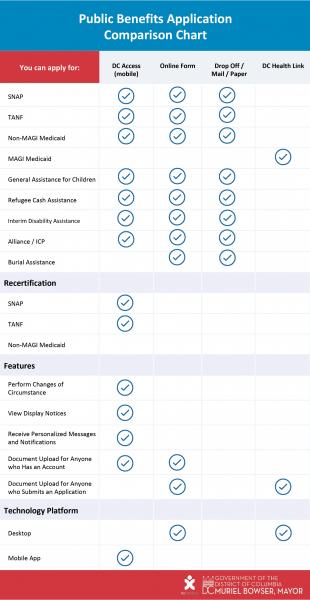 ---
Residents with questions about their public benefits provided by DHS should contact the DHS Public Benefits Call Center at (202) 727-5355 from 7:30 am - 4:45 pm, Monday - Friday.
---
Mid-certifications & Recertifications of Public Benefits
District residents who received amid-certification notice or recertification notice for food and cash benefits are encouraged to complete the recertification process using the District Direct mobile app or the DC Benefits online portal.