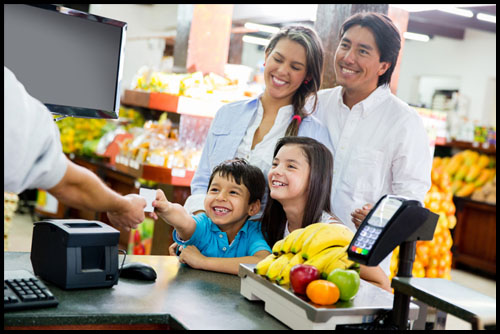 About SNAP
The District's Supplemental Nutrition Assistance Program (SNAP) (formerly known as Food Stamps) helps individuals and families buy the food they need for good health. Every month SNAP benefits are loaded onto an electronic card, called an Electronic Benefits Transfer (EBT) card, that is used as a debit card. EBT cards are accepted at most grocery stores, some farmers' markets, convenience, and big box stores. SNAP benefits cannot be used to buy prepared foods, vitamins, alcohol/tobacco, and non-food items (like soap or toothpaste).
Due to categorical eligibility, most households do not have a resource limit. The resources of people who receive Supplemental Security Income (SSI) or Temporary Assistance for Needy Families (TANF) are not countable. Some households that include an individual with a disability or who is age 60 years or older, may have only up to $3,500 in resources to qualify for SNAP.
Participating in SNAP & Protecting Your Benefits
To learn more about SNAP eligibility, including income requirements, allowable deductions, and resource requirements click here.
This helpful guide shares how District residents participating in SNAP may protect their benefits from fraud.
View the "Secure Your SNAP Benefits: A Customer Integrity and Fraud Prevention Guide" here.
Apply for SNAP Benefits
Apply for SNAP benefits by completing an application here.
EBT Cards
For more information about Electronic Benefits Transfer (EBT) cards, click here.
Pandemic Electronic Benefits Transfer (P-EBT)
The District remains committed to ensuring that families with children who receive free and reduced-price meals continue to have access to healthy meals during school closures due to the coronavirus (COVID-19) public health emergency. P-EBT provides additional food assistance to families of children who receive meals under the National School Lunch Program (NSLP). To learn more about these benefits for food assistance, visit the P-EBT Information Page.
SNAP Online Purchasing Program
Effective, Wednesday, May 13, District residents participating in SNAP may use their benefits to make online purchases of authorized food items using their Electronic Benefits Transfer (EBT) card on Amazon at amazon.com/snap-ebt.
SNAP participants may shop across three grocery options including Amazon, Amazon Pantry, and Amazon Fresh.
To learn more about the program, view the Frequently Asked Questions about the SNAP Online Purchasing Program or the Using SNAP EBT on Amazon video.
SNAP Online Purchasing Program Resources in Translated Languages
SNAP Employment and Training (SNAP E&T) Program
For information about employment, training, and education assistance through the voluntary SNAP E&T Program, click here.
Service Contact:
Department of Human Services
Office Hours:
Monday to Friday 8:15 am to 4:45 pm