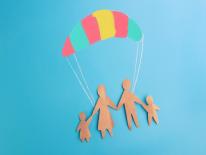 The District's Temporary Assistance for Needy Families (TANF) program provides cash assistance to families in need, along with a suite of services to facilitate their path to success. Families enrolled in the District's TANF program may receive benefits so long as they are income-eligible and have a child in the home. TANF also offers access to a variety of supportive services they can bundle together to meet their individual needs. DHS employs a Two-Generation Approach to reaching and serving families so children and parents can rise together.
Through the TANF program customers gain access to supportive services including but not limited to:
TANF Employment Program (TEP)

– provides coaching towards education and employment goals, but can also coach parents on goals they have for their child(ren) and families

Child Care Subsidy

– allows parents to enroll their child(ren) in quality childcare, including before and aftercare

Behavioral, Mental Health, and Substance Abuse Support

– connects customers to the Department of Behavioral Health (DBH) to obtain counseling to cope and manage behavioral, mental, emotional, or substance abuse issues for parents or their child(ren)

Tuition Assistance Program Initiative for TANF (TAPIT)

– financial assistance to enroll in post-secondary educational programs or professional certificate and

/or licensing programs
How to Apply
You can apply for SNAP by completing an application, providing documents to verify your eligibility, and participating in an interview.
Applications are accepted online, via mobile application, in-person, or through the mail.
General Program Requirements
To qualify for TANF you must be:
A resident of the District of Columbia;

Either pregnant or responsible for a child under 19 years of age;

A U.S. citizen, legal alien, or permanent resident;

Meet income requirements based on household size (see Income Requirement table below);

Complete orientation and assessment through the Office of Work Opportunity (OWO); and

Develop an Individual Responsibility Plan (IRP).
If you are approved for TANF, unless you are exempt, you must engage with a service provider and maintain compliance with your IRP.
Some customers enrolled in the TANF program may seek an exemption from work requirements. Examples of exemption reasons include but are not limited to:
Being pregnant

Having a child under age one

Experiencing domestic violence

Having a physical disability that limits work
Income Requirements at Application


The maximum income a family can have per application and still qualify for TANF depends on the family size and childcare costs. The maximum income a family can have, based on household size is below. (Once on TANF, families can earn more, and continue to qualify for benefits).
Income Limits and Maximum Monthly TANF Benefit Amounts
Effective October 1, 2023 –
September 30, 2024

Household Size

Maximum Monthly Benefit for Cash Programs

1

$471

2

$588

3

$751

4

$919

5

$1,061

6

$1,247

7

$1,431

8

$1,580

9

$1,740

10

$1,890
If a family has childcare costs, there is a maximum monthly income limit increase of $175 per child age 2 or over and $200 per child under the age of two.
Resource Requirements
Resources are things like bank accounts, money market funds, certificates of deposit, and stocks and bonds. For households that have a resource limit, households may have $2,000 in countable resources. If the household includes a person who is age 60 or older the resources limit is $3,000. If you apply for TANF, the District will review your information and determine whether you meet the resource requirements.
If you think you may be eligible – we encourage you to apply.

Recent Updates to the District's TANF Program

Discontinuing Time Limits

– Families can now receive benefits beyond the federal 60-month lifetime limit

Increasing Cash Benefits

– benefit levels received a cost of living adjustments (COLA), the cash grant was split between parents and child(ren), and sanctions were redesigned

Enhancing Employment & Training Services –

TEP providers engage in individualized coaching to reach employment and education goals, while also providing support to reach personal and family goals that facilitate success in the classroom and job market

Providing Bonuses

– offering financial rewards (in addition to the monthly cash grant) when education and employment goals are achieved and for engaging in the TEP in a meaningful way

Improving Customer Service

– DHS has made Service Center renovations and improvements, adjustments to operating hours, and continues to evaluate ways to improve the customer experience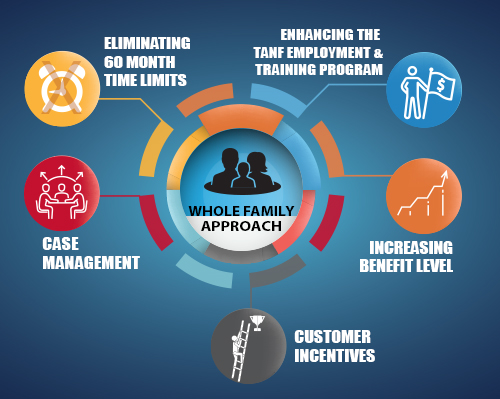 Office Hours:
8:15 am to 4:45 pm on Monday, Tuesday, Thursday and Friday, 8:15 am to 7 pm on Wednesday