District Direct: A Mobile Application for Public Benefits
District Direct is a convenient mobile application (mobile app) that allows residents to apply for public benefits available in the District. Applications for food, cash, and medical benefits, and verification documents, may be submitted through the mobile app. Through the app, District residents may also complete public benefit recertifications and mid-certifications, view upcoming and past benefit distributions, and update personal/household information. District Direct is free and available in the Google Play and Apple app stores.
Using District Direct
Visit the Google Play or Apple app store to download District Direct.
Open District Direct on your mobile device and create an account.
Complete your application for public benefits.
Take a picture of your verification documents and upload the documents.
Submit your application. DHS will review and will determine your eligibility. You may receive a call from a DHS representative as a follow-up to ensure we have the information needed to process your application.
District Direct Help
The Call Center is available at (202) 727-5355 and can provide help using the mobile app or changing something reported on your application.
The following user guides, FAQ, and video also provide helpful information for using District Direct:
District Direct User Guides:
Frequently Asked Questions about the District Direct Mobile App
District Direct Introduction Video:
Click the image below to view the video.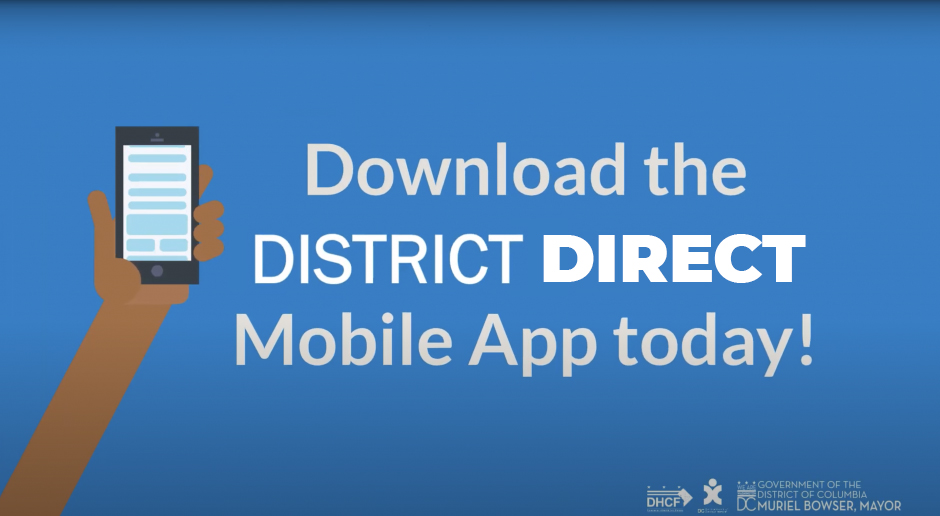 For more information about applying for public benefits available in the District, visit the Apply for Benefits information page.