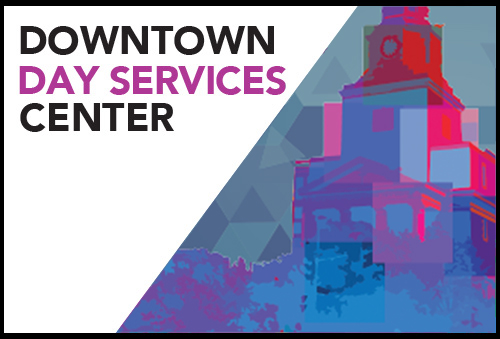 The Center offers downtown day services to individuals experiencing homelessness. The Center utilizes a Housing First method to move individuals into housing by connecting them with supportive services.
The Center is operated by the DowntownDC Business Improvement District (BID) with support from the District of Columbia Department of Human Services and services from Pathways to Housing DC and HIPS.
Hours Open: BY APPOINTMENT ONLY; weekdays from 9am – 5pm
Meals: Lunch available Monday-Friday from 11am - 1pm in the park adjacent to the New York Avenue Presbyterian Church; Saturday & Sunday Lunch served 11am-1pm at Vermont Avenue, NW
Services Available: To make a services appointment, contact the Downtown Day Services Center via phone: 202-383-8810 or e-mail: [email protected].
Restrooms & Showers
Laundry & Emergency Clothing
Phone Charging & Computers
The District Department of Employment Services
District Department of Health
District Department of Motor Vehicles
Economic Security Administration
Unity Health Care
Washington Legal Clinic for the Homeless
For more information, and to get involved, contact (202)-383-8810 or view the Downtown Day Services Center flyer.
---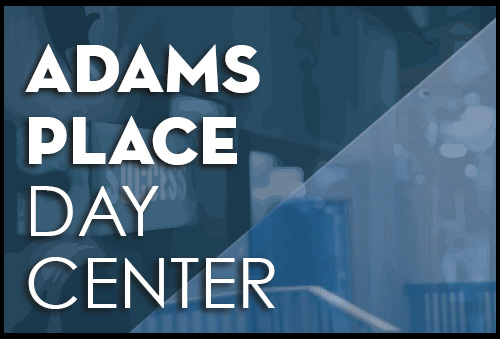 Adams Place Day Center
The Day Center addresses the long-standing need in the community of having a safe and dignified place for individuals experiencing homelessness to go during the day to take care of everyday needs and access long-term services and supports. The Day Center provides access to:
Housing assessments
Career planning 
Case management 
Lunch 
Shower and laundry facilities, and 
Other on-site services offered by partner agencies. 
Day Services Schedule:
Showers
7:00 a.m. - 4:30 p.m.

Laundry
7:30 a.m. - 4:30 p.m.

Computer Lab
8:00 a.m. - 6:00 p.m.

Lunch
12:30 p.m. - 3:00 p.m.

Clothing Closet
10:00 a.m. - 10:30 a.m.
& 2:00 p.m. - 2:30 p.m.

Food Stamps / Medicaid
Wednesday & Friday
8:15 a.m. - 4:45 p.m.

Project Empowerment
Wednesday
10:00 a.m. - 3:00 p.m.

SNAP/ Employment & Training
Wednesday & Friday
10:30 a.m. - 3:00 p.m.

American Job Center
Thursday
11:00 a.m. - 12:00 p.m.

 

Unity Health Clinic
Wednesday & Friday
10:00 a.m. - 12:00 p.m.
Thursday
1:00 p.m. - 4:00 p.m.

 
For more information, view the Adams Place Day Services Center information sheet.
---
Zoe's Door Drop-in Center
Zoe's Doors is a drop-in center for District youth ages 24 and under experiencing homelessness and housing instability or simply in need of a safe place to go. The center is open from 8:00 a.m. to 4:00 p.m., seven days a week and operated by DC Doors with support from the DC Department of Human Services.
Supported through partnerships with District agencies and organizations including the DC Department of Employment Services, DC Health, the Office of the State Superintendent of Education, the Department of Behavioral Health, Youth HOPE and Mary's Center, Zoe's Doors connects youth to supportive services including housing, medical and behavioral health services, education services, workforce development, and employment assistance.
SAMPLING OF SERVICES:
Hot meals
Showers
Housing services
Case management
Healthcare clinic
Life skill workshops
Harm reduction
Restroom facilities
Laundry
Employment assistance
Workforce development
Social activities
Computer skills
For more information, contact (202) 248-2098 or view the
Zoe's Door Drop-In Center flyer.