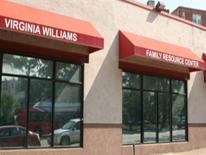 Families may access emergency housing through the Virginia Williams Family Resource Center (VWFRC), the central intake office for all families in the District of Columbia seeking assistance with their housing needs. VWFRC is located at 920 Rhode Island Avenue, NE, Washington DC, and is open Monday—Thursday from 8:30 am - 4 pm and Friday, 8:30 am - 12:00 pm. If you are a family with children under 18 and need emergency shelter, please call the Shelter Hotline at (202) 399-7093. The shelter hotline is open every day from 8 AM - 12 AM. During hypothermia season (November 1 - April 15), the shelter hotline is open 24 hours a day.

WHAT YOU WILL NEED TO BRING WITH YOU TO VWFRC TO ACCESS THE FAMILY EMERGENCY SHELTER:
Identification
Birth Certificates for each family member
Proof of Income
Proof of District residency if not established through identification
SERVICES AVAILABLE AT VWFRC:
Homeless and Homeless Prevention

Emergency Rental Assistance
Housing Resources
Homeless Diversion Services
Emergency Family Housing
Community-Based Resources

Public Benefits

TANF
Food Stamps
Medicaid
Childcare Subsidies for families working on their TANF goals.