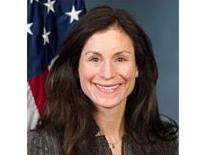 On December 29, 2014, Mayor-elect Bowser named Laura Green Zeilinger the next Director of the Department of Human Services (DHS). Ms. Zeilinger is responsible for a 973-person agency that is charged with assisting low-income individuals and families to maximize their potential for economic security and self-sufficiency.
Ms. Zeilinger is an attorney with a long-standing commitment to underserved populations. Most recently, she served as the Executive Director of the United States Interagency Council on Homelessness, where she was responsible for the implementation of Opening Doors: Federal Strategic Plan to Prevent and End Homelessness, an effort that includes the coordination of Federal homelessness policies among 19 Federal departments and agencies, as well as partnerships with State and local communities, non-profits, and the private sector. She joined USICH in 2011, and prior to her appointment as Executive Director in 2014, she served as Deputy Director.
Previously, Ms. Zeilinger served at the District of Columbia Department of Human Services (DHS) as Deputy Director for Program Operations. There, she led the creation of more than 1,000 units of permanent supportive housing as part of the Homeless No More Plan. She designed and implemented the District's Housing First Initiative, which connected 500 individuals and 80 families to housing stability in its first year alone. Prior to her work with DHS, Ms. Zeilinger served as the Mayor's liaison to DHS and the Office of Disability Rights. She has also led international economic development efforts, managing a technical assistance project to reform the pension system in the Republic of Kazakhstan.
Ms. Zeilinger is an alumna of Sarah Lawrence College and a graduate of the Washington College of Law at American University. She lives in Washington, DC, with her husband and two children.
Transcript to the Laura Zeilinger Profile