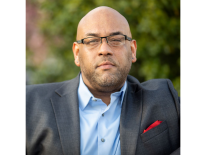 Chief of Staff
David Jason Ross serves as the Chief of Staff for the District of Columbia Department of Human Services (DHS). As Chief of Staff, David oversees all policy, communications, constituent services, scheduling, community issues, and office management functions for the agency. David has been in this role since January 2021. Before this role, David served as the Deputy Administrator for the Division of Customer Workforce Employment and Training (DCWET). In that role, David provided leadership and management for the TANF and SNAP employment and training programs, collectively providing employment, education, coaching, and multigenerational services to approximately 5,000 work-eligible, public benefit recipients.
Before moving to the DC area, David served as an Urban Youth Development Volunteer with the US Peace Corps in Kingston, Jamaica. While there, David provided educational and social skills development for young people engaged with the Area Youth Foundation (AYF), a performing-arts company that works to prevent and reduce violence amongst kids living in waring communities. David has also served as a Court Appointed Special Advocate (CASA) for Prince Georges County, Maryland.
David holds dual Bachelor of Arts degrees in Political Science and African American Studies from San Jose State University in San Jose California; David spent a semester abroad as a W.E.B. DuBois Fellowship award recipient at The University of Ghana at Legon. He obtained a Certification in Public Management from The George Washington University, in Washington, DC, and a Tier-1 Procurement Certification from the DC Procurement Institute through the Government of the District of Columbia. David also holds a Master of Science Administration in Leadership and Organizational Development from Trinity-Washington University, in Washington, DC.
David is a member of the National Forum for Black Public Administrators, a T.E.A.C.H. D.C. Advisory Committee member for the National Black Child Development Institute, and a proud Ward #7 resident.