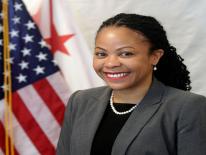 FSA Administrator
Rachel Pierre joined DHS as the Administrator for the Family Services Administration (FSA) in December 2020. Rachel leverages her nonprofit experience to positively impact how the District delivers human services and to improve the experience for residents and the DHS staff who serve them.
Rachel has been working on behalf of District residents for nearly 20 years. She's served as a child welfare social worker, senior management at Lutheran Social Services, and immediately prior to her current position, the chief operating officer for Pathways to Housing DC.
As Administrator of DHS's Family Services Administration, Rachel oversees the District continuum of care of homeless services. Her homeless services portfolio ranges from homeless prevention services, diversion, street outreach, emergency shelter, and the end of the spectrum of permanent housing, for families, single adults, and youth.
Rachel also has oversight of juvenile justice diversion and community services through FSA's Youth Services Division, Block Grants, and the newly formed Office of Migrant Services.
Rachel is originally from Haiti and moved to the District at the age of 13 where she discovered her passion for serving the people of DC, her adopted home, and the people of Haiti her native land.
Rachel is a servant leader marked by her efficiency, humility, and determination. Rachel has a bachelor's in finance from James Madison University, a master's in social work from Howard University, and a master's in business administration from the University of Maryland Smith School of Business.
Rachel is a Ward 4 resident and mother to a college student, Kya, and a fur baby Milo. When she's not working, Rachel enjoys boxing, kickboxing, and spending time outdoors with loved ones.