Thursday, November 21, 2019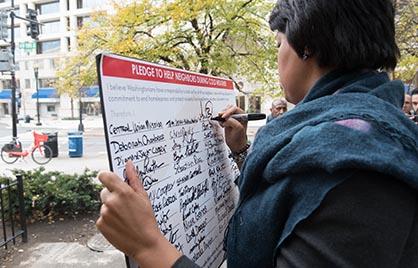 (Washington, DC) – Today, Mayor Muriel Bowser hosted a Hypothermia Awareness Pledge Event during National Hunger and Homelessness Awareness Week to encourage residents and organizations to join the District's fight to prevent and end homelessness this winter. Each year, the Bowser Administration implements the Interagency Council on Homelessness Winter Plan to expand hypothermia shelter and other services to ensure a warm bed for anyone who needs it during extreme temperatures.
"As we continue to connect those experiencing homelessness to short-term and permanent housing, we need everyone – residents and businesses in all eight wards – to work with us to ensure that on cold days and nights, we are getting people into warm shelters," said Mayor Bowser. "Through investments and resources like the Downtown Day Center and pledges of support from community partners, we can continue our progress in making homeless rare, brief, and nonrecurring here in the District."
In partnership with the DowntownDC Business Improvement District and the DC Department of Human Services (DHS), the event raised awareness about expanded shelter and services available during the winter months for individuals experiencing homelessness and the role of the community in protecting vulnerable neighbors from cold weather injury and death. CareFirst BlueCross BlueShield donated 500 personal care kits to be made available to residents utilizing the services of the Downtown Day Services Center.
"District agencies are working together to protect the lives of unsheltered neighbors by increasing availability of shelter beds, providing more strategic outreach services, offering free warming items and ensuring transportation to shelter is available 24 hours a day," said DHS Director Laura Zeilinger. "Our community partners serve a vital role as additional eyes and ears. If you see someone outside in need of shelter or assistance, call the Shelter Hotline or 311 – if there appears to be imminent risk to someone's safety, please call 911."
During Hypothermia Season, November 1 – March 31, the District provides free outreach and assistance, welfare checks, warming items, such as blankets, gloves, and hats, and transportation to shelters 24 hours a day, seven days a week. District residents are encouraged to save the Shelter Hotline phone number in their mobile device and call 202-399-7093 or 311 to request assistance or transportation to shelter for persons in DC who are experiencing homelessness. Residents may also receive public safety notifications through Alert DC and homeless services text alerts via Hope One Source. For District Hypothermia and Cold Weather Emergency alerts, residents may follow DHS on Twitter, Instagram, and Facebook.
Read more important information and facts about hypothermia and download the frequently asked questions here.
Families seeking emergency shelter can call the Shelter Hotline or 311 at any time day or night. Families may also visit the Virginia Williams Family Resource Center at 920 Rhode Island Avenue, NE, Monday through Thursday between 8:00 a.m. and 4:30 p.m., and Friday between 8:00 a.m. and 12:30 p.m. The center is closed on Thursday, November 28 and Friday, November 29, 2018.