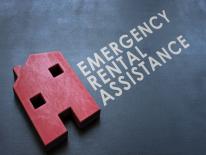 At this time, all District residents requesting rental assistance should apply through STAY DC. Residents who may not qualify for STAY DC will be referred to ERAP by the program for additional screening. 
STAY DC is a financial assistance program for D.C. renters and housing providers who are looking for support to cover housing and utility expenses and offset the loss of income. Apply today to receive the money you can use to help you pay for your rent, gas, water, and electricity. More information about STAY DC is available at stay.dc.gov.
Emergency Rental Assistance Program
The Emergency Rental Assistance Program (ERAP) helps District residents earning less than 40% of the Area Median Income (AMI) who are facing housing emergencies, by providing funding for overdue rent including late fees and court costs if a qualified household is facing eviction. The program also supports security deposits and the first month's rent for residents moving into new apartments. This is the District's legacy program and all applications for rental assistance should be directed to STAY DC now.
The Homeless Prevention Program (HPP) prevents families at risk of becoming homeless from entering the shelter system by providing services and resources that stabilize the family within the community. HPP providers assist families with developing a plan, identifying resources, and setting goals that will help them maintain stable housing with their pre-existing support networks, rather than coming into the shelter system. HPP service providers also offer mediation services and flexible financial assistance. All referrals for HPP are made through Virginia Williams Family Resource Center.
DC Flex
In 2017, DHS launched a pilot rental subsidy program called DC Flex, which gives low-income, working families $7,200 to spend per year on rent for four years (or longer if the pilot is extended). Because a family's ability to pay rent may change as their income and expenses fluctuate month-to-month, participants can choose how much of their DC Flex funds to spend on rent in a given month (up to their total rent amount) until the $7,200 is exhausted. DHS is evaluating the effectiveness of this intervention through a partnership with the Lab at DC.