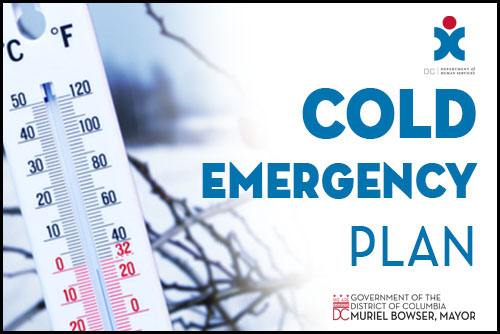 A Cold Emergency Alert is called when the temperature falls, or is forecasted to fall, to 15˚F or below including wind chill, or 20˚F, including wind chill, and one or more of the following conditions exists:
Under a Cold Emergency, additional services and supports are put in place to protect homeless residents beyond what is provided in the Winter Plan during a Hypothermia Alert. These additional measures are put in place to ensure all residents, workers and visitors are protected from extreme cold weather to prevent illness, injury, and death.
To request support for DC residents who are homeless and on the street now, contact the Shelter Hotline at [email protected], (202) 399-7093, 211, or 311.
Pets should be brought indoors during hypothermia alerts and extreme cold weather. To report cruelty, neglect, and animal emergencies 24 hours a day, call the Humane Rescue Alliance at (202) 723-5730. Standard of Care for Animals Amendment Act of 2017
---
When the Cold Emergency Alert Is Activated
The District will operate under a Cold Emergency meaning that additional services and supports are available to help people who are homeless. All standard Winter Plan shelters are in operation. Please note: start and end times indicated below may be modified based on weather conditions.
---
Key Contact Information
DC Shelter Hotline
Websites
Twitter
Text Alerts
Call Washington Humane Society at (202) 723-5730 24 hours/day to report cruelty, neglect and animal emergencies.