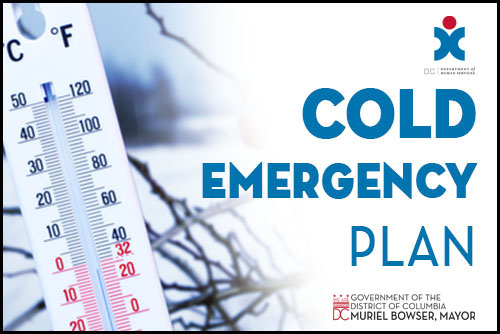 Cold Emergency Alerts occur when the National Weather Service (NWS) forecasts weather that presents a danger to residents, especially those who are outdoors and experiencing homelessness. Alerts are triggered by either a combination of temperature and wind chill below 15° F, or a combination of temperature and wind chill below 20° F along with an accompanying weather event such as snow.
Under a Cold Emergency Alert, the District provides additional services and supports to protect residents from life-threatening illness and injuries associated with severe cold weather.
Shelter Hotline
Transportation to shelter is available 24 hours a day, 7 days a week. If you see someone outside in need of shelter or a welfare check, call the Shelter Hotline at (202) 399-7093 or dial 311. If there is an immediate risk to safety call 911. When calling, please include the time, the address or location of the sighting, and a description of the person's appearance.
The following shelter locations are open during a Cold Emergency Alert and remain open through the duration of the alert:
Cold Emergency Alert Night Shelters for Women
New Covenant Baptist Church at 1301 W Street, SE
Community of Christ Church at 3526 Massachusetts Avenue, NW
Sherwood Recreation Center at 640 10th Street, NE
King Greenleaf Recreation Center at 201 N Street, SW
Harriet Tubman Shelter at 1900 Massachusetts Avenue, SE
Nativity Shelter at 6010 Georgia Avenue, NW
Patricia Handy Place for Women at 810 5 Street, NW
Cold Emergency Alert Night Shelters for Men
Banneker Recreation Center at 2500 Georgia Avenue, NW
Kennedy Recreation Center at 1401 7th Street, NW
Community for Creative Non-Violence at 425 2nd Street, NW
801 East Shelter at 801 Making Life Better Lane, SE
Adams Place Shelter at 2210 Adams Place, NE
New York Avenue Shelter at 1355-57 New York Avenue, NE
Co-Ed Cold Emergency Alert Night Shelters
Salvation Army at 3335 Sherman Avenue, NW
Families seeking emergency shelter can call the DC Shelter Hotline at (202) 399-7093 or 311 at any time day or night. Families may also visit the Virginia Williams Family Resource Center at 920 Rhode Island Avenue, NE, Monday through Thursday between 8:00 a.m. and 4:30 p.m., and Friday between 8:00 a.m. and 12:30 p.m. The Center is closed on Federal holidays.
---
Text Alerts