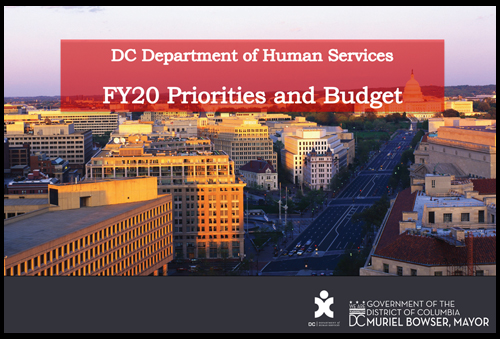 Mayor Bowser presented the Fiscal Year 2020 (FY2020) Budget and Financial Plan, the District's 24th consecutive balanced budget. This budget does more to make Washington, DC a place where people of all backgrounds and in all stages of life are able to live and thrive by making key investments in affordable housing, education, families, transportation, public safety, seniors, and protecting DC values. View FY2020 proposed budget highlights at mayor.dc.gov/2020budget.
To learn more about the DC Department of Human Services FY2020 Budget priorities including new investments in DHS, view Director Zeilinger's briefing on the proposed budget, DHS FY20 Budget One-Pager or Director Zeilinger testimony from the FY2020 Budget Oversight Hearing.
In her Fiscal Year 2020 budget, Mayor Bowser continues her relentless commitment to giving every Washingtonian a fair shot and a pathway to the middle class.