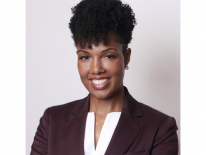 Policy and Program Support Manager
Dena Hasan is the Director of Policy and Program Support, within DC's Department of Human Services. In this role, she uses her background in Medicaid, public health, homelessness prevention, and social services to generate and guide strategies that align policy, program design, and funding streams toward improving the overall well-being of DC's low-income residents.
Dena is leading DC's approach to better leverage Medicaid funding for supportive housing services, and oversees programs that test innovative ways to increase housing stability; synergize the eligibility policies and practices of health and human services public benefits; and system-level approaches to address the housing and economic security needs of domestic violence survivors. She is also responsible for ensuring DHS's compliance to data privacy, language access and service accessibility standards, and the client appeals process within the District's homelessness continuum of care. Additionally, Dena oversees the District's use of hotels to quarantine persons with a positive COVID-19 diagnosis who cannot safely isolate in a private residence and to provide non-congregate shelter for persons experiencing homelessness that are most at risk of severe health outcomes from contracting the virus.
Dena holds an undergraduate degree in Healthcare Administration from Tennessee State University and a Masters of Public Health from the University of North Carolina at Greensboro.