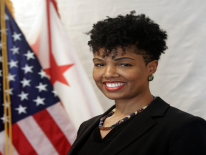 Policy and Program Support Manager
Dena Hasan is the director of policy and program support for DC's Department of Human Services where she leads innovative programs to increase housing stability for District residents, aligns policies and practices aimed at preventing untimely benefit reductions, and inserts system-level approaches to address the housing and economic security needs of domestic violence survivors. Dena also oversees the policy and program support for the PEP-V and Isolation and Quarantine (ISAQ) programs in the District.
Dena joined DHS in 2017 when she dedicated her leadership and hard work to champion Mayor Bowser's commitment to provide District residents with a fair shot to reach the middle class.
Dena spearheaded the launch of DC Flex, a preventative homeless intervention strategy that provides banking and funding for monthly rent gaps; Career Mobility Action Plan, a groundbreaking pilot designed to remove barriers that families confront as they pursue employment that can sustain their families; and increased Medicaid funding and investments in homeless services. These accomplishments have strengthened agency partnerships and have been recognized for their extraordinary innovation and positive impact on program serving District residents.
Dena served as the acting director of the Healthcare Reform and Innovation Administration at the DC Department of Healthcare Finance, where she led the research, development and implementation of best practices and new approaches in the delivery of healthcare services.
Dena oversaw the design of innovative programs that integrate behavioral, physical and acute health care for chronically ill Medicaid recipients, specifically focused on initiatives authorized through the Health Information Technology for Economic and Clinical Health Act (HITECH) and the Patient Protection and Affordable Care Act (ACA).
Dena led the increase of access to healthcare through telemedicine and implemented alternative payment models that incentivize providers to deliver high-quality care. Dena was also responsible for the District's Medicaid Electronic Health Record Incentive Program, and cooperative agreements with the federal government to launch new and connect existing health information technology/exchanges (HIT/HIE). Much of this work was supported by grants that Dena managed, including the DHCF State Innovation Model Design grant, used to develop a healthcare system that pays for value – rather than volume – provides integrated care for all, and promotes population health in the District.
Dena holds an undergraduate degree in Healthcare Administration from Tennessee State University and a Master of Public Health from the University of North Carolina. She is a proud resident of Ward 7, where she lives with her three children and dog named Champ.
Dena's leadership philosophy is best summed up by the quote, "The ability to learn is the most important quality a leader can have." - Padmasree Warrior, CEO & Founder at Fable